Next to the Thames, Big Ben is probably the most important landmark of London. It is the clock tower of the palace of Westminster. "Big Ben" is actually only the big bell in the tower. But the name is used colloquially for the whole bell tower (actually the tower is called St Stephans). The Big Ben stands in the southern, historical centre of London almost directly at the river.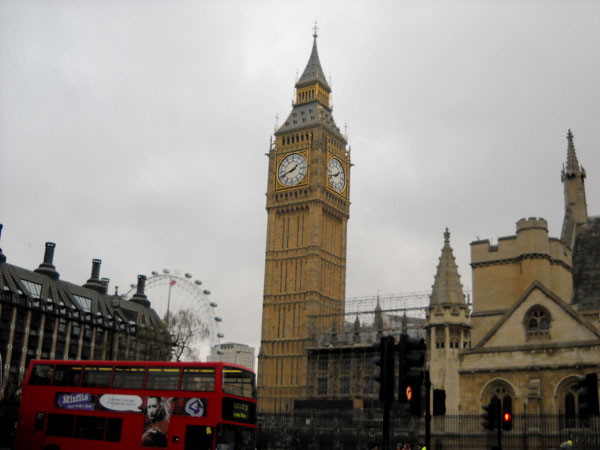 History: The Big Ben is 150 years old, it was finished in 1959. The gigantic 4 clocks each have a diameter of 7 meters and can be seen over several kilometers. Also the gigantic bells (up to 15 tons, 3 meters diameter) of the Big Ben can be heard for miles. The unique bell chime is world famous. Only very rarely are the bells of the tower switched off, for example in April 2013 during the funeral of former Prime Minister Margaret Thatcher (Iron Lady).
Exact tower clocks: The clocks at Big Ben in London are known for their extreme accuracy. In the summer of 2015, the tower clocks were 7 seconds ahead. This small discrepancy made headlines in the press in London and throughout Great Britain.
Big Ben is probably named after the engineer and later politician Benjamin Hall, who managed the construction.
Close by: Sights not far from Big Ben are Westminster Abbey and Downing Street. Opposite on the other bank of the Thames is the London Eye, the largest Ferris wheel in Europe (see picture above). Also the great museum Tate Modern (entrance free) can be reached in a short time on foot.
Big Ben entrance fee / opening hours: The Big Ben bell tower cannot be visited from the inside.
How to get to Big Ben: The nearest underground station is Westminster (about 100 metres away). There are also many public double-decker buses in the area.
Status of information: Early 2017, partly updated 2018
Short video with the famous Big Ben chime at 12 o'clock