Leadenhall Market is a market hall worth seeing in the City of London, the financial and banking area in the center of the city. A market has existed on the site since the late Middle Ages. The Victorian style building is impressive.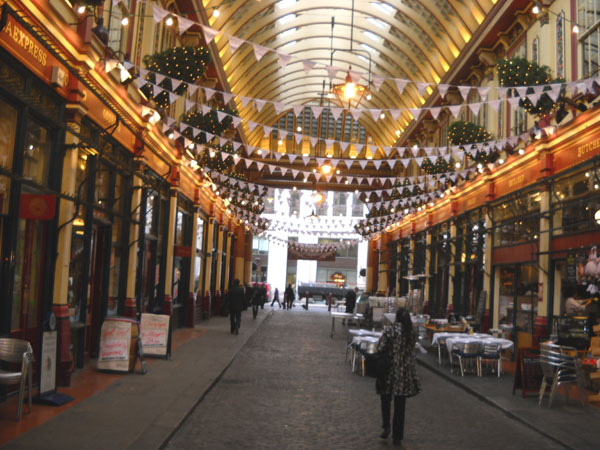 The current building was built around 1880 by Sir Horance Jonas. Due to the use of a lot of glass, Leadenhall Market still looks imposing today. At present, the hall is mainly small, luxurious grocery stores. No wonder, people in the surrounding London banking district have a lot of money. For the tourists it is exciting to walk through the stores. There are also some pubs in Leadenhall Market. Bankers often meet here during their lunch break. Billion dollar deals are said to have been agreed here.
London Eye Wheel:

Buy your ticket beforehand
The average number of passengers in the London Eye is about 10,000 per day, in high season and at weekends it is much higher. Thus, there is often a big crowd. The queues at the cash desks of the London Eyes are often long. Hours of waiting time are frequent. Therefore, it makes sense to buy the ticket in advance on the internet.
The Leadenhall Market is certainly not a "must see" for London visitors. There are other more important sights in the city. But a short walk through the hall and into the stores is worthwhile if you are just in the area. In addition to the luxury stores, there are also regular butchers, fishmongers, flower stores and bakers. At the London 2012 Olympics, the route of the marathon went right through Leadenhall Market.
How to get to Leadenhall Market: Leadenhall Market is located less than 100 meters behind the famous Lloyd's building. Unfortunately, there is no tube station directly at Leadenhall Market. The following tube stations are 300-500 meters away: Banks, Monument, Fenchurch Street. The subway in London is often colloquially called "Tube" (tube).
On foot, you can reach the River Thames in a good 10 minutes from the market, and the Tower in a good quarter of an hour.