The O2 Arena is the largest building in the UK. The multi-purpose hall has a diameter of over 300 meters and is over 50 meters high. Depending on the type of event, about 20,000 spectators can fit into the multi-purpose hall during sports competitions or music concerts.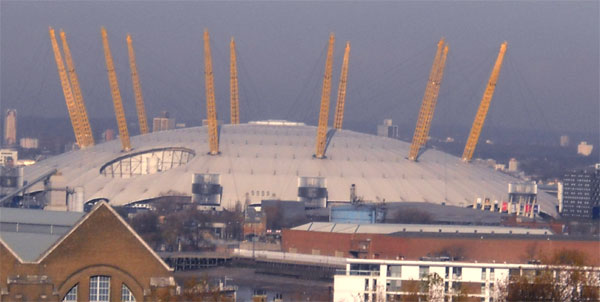 The O2 Arena was completed in 1999. At first, the huge hall was called Millennium Dome. In 2005 it was renamed O2 Arena. It has the shape of a dome (see picture above).
London Eye Wheel:

Buy your ticket beforehand
The average number of passengers in the London Eye is about 10,000 per day, in high season and at weekends it is much higher. Thus, there is often a big crowd. The queues at the cash desks of the London Eyes are often long. Hours of waiting time are frequent. Therefore, it makes sense to buy the ticket in advance on the internet.
---
Our excursion tip
Harry Potter tour from London to the film studios outside the city. It is currently the most popular day trip from London  >>> Book the tour
---
The O2 Arena is located in Greenwich and is also easily visible from the other side of the Thames, e.g. from Docklands. It stands at the northernmost point of Greenwich on a peninsula. From some perspectives, one has the feeling that the domed building was built into the sea. The O2 Arena building also houses restaurants, pubs, stores and a larger cinema.
Getting to the O2 Arena: The underground station for the O2 Arena is North Greenwich. Also, several public bus lines run from various boroughs of London to the large arena.
The most popular excursion by boat on the Thames
Meanwhile, a large part of London tourists take a boat trip on the Thames. Of course, everyone wants to see the center of London from the ship. Thus, the most popular boat tour is from Westminster to Greenwich, that is, across the city center of London. Very often booked tour, you should book online in advance: