This article answers the questions:
– What is Speakers Corner ?
– Is it worth visiting in 2023?
– When does it make sense to visit Speakers Corner in London?
– How do I get there ?
Overview: Speakers Corner is a place in the Hype Park in London. According to an old law from 1872, any kind of meetings, speeches and discussions are allowed here. To this day, the tradition has been preserved. Thus, several hundred people gather in Speakers Corner, especially on Sundays. Interesting are also the many level and funny interjections of the audience.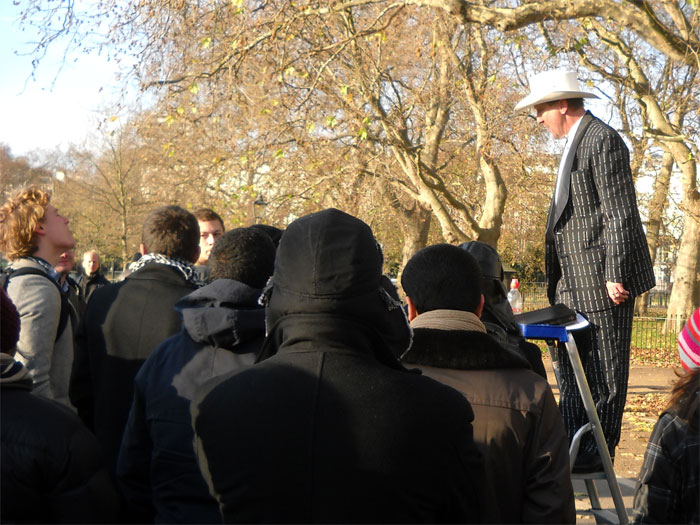 The Speakers Corner has lost its actual function today. Nowadays, of course, everyone is allowed to say whatever they want anywhere in the UK. Nevertheless, the tradition continues. Unfortunately, most speakers today are no longer about politics. The vast majority are religious fanatics. Nevertheless, a visit to Speakers Corner is definitely recommended. The performances are mainly entertaining and sometimes very funny.
The best time to visit the Speaker's Corner is on Sundays in the afternoon. Then you can on nice days with 10 or more speakers. You can expect an audience of several 100. Speakers are repeatedly interrupted by loud heckling and follow-up questions from the audience. Some speakers respond to this in a very quick-witted manner. Crowds quickly form around good speakers. Others talk to themselves without anyone listening.
There have been repeated reports in the media in recent years that Islamist hate preachers are appearing at Speakers Corner. However, I have never seen anything like that during my visits. More frequent are appearances by people who strive for a coexistence of the world's religions. Radical Christian speakers do exist, however. Some also limit themselves to simply reading from the Bible.
Marco Polo Airport Shuttle Bus
London Eye Wheel:

Buy your ticket beforehand
The average number of passengers in the London Eye is about 10,000 per day, in high season and at weekends it is much higher. Thus, there is often a big crowd. The queues at the cash desks of the London Eyes are often long. Hours of waiting time are frequent. Therefore, it makes sense to buy the ticket in advance on the internet.

Many of the self-promoters in Hyde Park bring a small ladder or a box to be better understood and seen in the audience, even in the back rows.
Is it worth visiting Speakers Corner in London?
Today, Speakers Corner is more a symbol of freedom and democracy in Britain and the Western world. Sometimes there are really good debates, even with audience participation.
Tip:
Harry Potter excursion (Warner Brothers Studio Tour)
One of the popular excursions in London is to the film studios,
where the Harry Potter films were shot. The location of the studios
of Warner Brothers is about 30 kilometres north of London near the town of Watford.
near the town of Watford. The tour includes a bus transfer from
London and has very good reviews. A "must" for every
Harry Potter fan on holiday in London. The trip by bus and the
visit to the film studios takes around 7 hours. You should book early,
the popular Harry Potter excursion from London is often sold out.
The alternative journey by public transport is not so easy.
The excursion to the Warner Brothers Studios is for many
London holidaymakers the highlight of their trip.
Of course, you have to speak English very well to participate meaningfully. Here often the typical London dialect (Cockney) is spoken, which is difficult to understand with normal school English. All in all, you have to be a bit lucky to experience one or more good or at least funny speakers.
Current 2023: Unfortunately, there is less and less going on in Speakers Corner. Social media on the Internet, the new symbol of freedom of speech, seems to be crowding out this great, traditional institution more and more. It would be a great pity if the Speakers Corner eventually ceased to exist.
Marco Polo Airport Shuttle Bus
Our excursion tip
Harry Potter tour from London to the film studios outside the city. It is currently the most popular day trip from London  >>> Book the tour
Famous Speakers
In past times, important people like Marx or Lenin performed in front of huge audiences in Speakers Corner. Even today, politicians appear in the Speaker's Corner, especially before elections, e.g. for a parliamentary seat. However, the political significance of Speaker's Corner in Hyde Park has all but disappeared in free democracy Britain.
By the way, according to the law of 1872 there is a restriction for the speakers in Hyde Park. Speeches must not be about the Queen or the Royal Household. We don't know if speakers are still punished today who don't follow this rule.
Tickets for the
London Eye Ferris

wheel can be found

on this website
Best time to visit Speakers Corner
You should definitely come to Speaker's Corner at a good time, otherwise there may not even be anyone there. On a Sunday morning around 10am, there was nothing going on when I visited. When I came back at 3 p.m., hundreds of people and about a dozen speakers had gathered. Of course, on rainy days, which are frequent in London, there tends to be little going on. Ideal: Sunday afternoon in good weather.
Directions to Speaker's Corner London
Speakers Corner is in the north-east of Hyde Park. The subway station "Marble Arch" (Central Line) is about 100 meters away.
Admission Speaker's Corner London
The entrance is of course free. It is a public park.
Sights in the vicinity
Besides the Speakers Corner, you can of course look at other sights in Hyde Park. Harrods department store is also near the famous park (the largest department store in Europe).
Detailed info Speakers Corner
Spika's Corner is a public speaking attraction in Hyde Park, London. It has been an icon of free speech and public debate for over 150 years and has attracted people from all walks of life to express their views and engage in lively debate.
The history of Speaker's Corner dates back to the mid-19th century, when political protests and demonstrations were banned in the country. At that time, people gathered in Hyde Park to exchange their views and opinions on various social and political issues, which led to the emergence of an informal discussion that became known as Speaker's Corner. Today, Speaker's Corner remains a place of public debate and free expression, attracting speakers and listeners from all over the world. Here, visitors can experience speakers from different backgrounds and perspectives speaking on topics such as religion, politics, social issues and current events.
The corner is also known for its lively and dynamic discussions, where speakers and audience members engage in debates, arguments and discussions. This open exchange of ideas and opinions makes Speaker's Corner a unique and special place.
One of the most famous speakers at Speaker's Corner was Karl Marx, who lived in the mid-19th century. V. gave a lecture on socialist and communist ideas. V. gave a lecture on socialist and communist ideas. Other famous speakers included Mahatma Gandhi, who spoke about Indian independence in 1931, and George Orwell, who addressed the audience in the 1940s.
Speakers' Corner is not only a platform for free speech, but also a meeting place for visitors to London. Visitors from all over the world come here to watch the ongoing debates and talk to the speakers. There are no restrictions on who can speak at Speakers' Corner and anyone can speak in front of a crowd on any topic as long as they follow the rules and do not incite violence or hatred. The community is now a symbol of democracy where people can express themselves and have meaningful conversations with each other.
Overall, Speakers' Corner is a unique and important place that highlights the rich history of free speech and public debate in London. Whether you are a local or a tourist visiting the city, Speakers' Square is a must-see on any itinerary and provides an opportunity to experience the power of free speech and the importance of public debate in a democratic society.
Sights nearby
In addition to Speakers Corner, you can of course see other sights in Hyde Park. Harrods department stores' is also close to the famous park (the largest department stores' in Europe).