After reading this article, you will find good and cheap restaurants in London easier.
Price level of gastronomy in London
Eating out in London is on average a bit more expensive than in Germany. Those coming from Munich will find London to be about the same price. Those coming from Berlin will feel that London is expensive.
The price differences between restaurants are huge in London. In a simple restaurant, you can definitely get your fill for 6-8 pounds. But there are also luxury restaurants where you pay 100 pounds or more per person. For the very simple restaurants I have written an extra page (see fast food in London).
Our tip:

London Pass
The best city ticket for tourists. It includes free entry to the Tower, London Zoo, Westminster Abbey, Windsor Castle and The Shard skyscraper. Plus a city tour by bus and a great boat trip on the Thames. A total of about 85 attractions included! The London Pass is available for 1 day or several days (up to 10 days). Pays off for almost every tourist who wants to visit the sights and the city of London. Our recommendation for a city trip to London!
One of the popular excursions in London is to the film studios, where the Harry Potter films were shot. The location of the studios is about 30 kilometres north of London near the town of Watford. The tour includes a bus transfer from London and has very good reviews. A "must" for every Harry Potter fan on holiday in London. The trip by bus and the visit to the film studios takes around 7 hours. You should book early, the popular Harry Potter excursion from London is often sold out. The alternative journey by public transport is not so easy. The excursion to the Warner Brothers Studios is for many London holidaymakers the highlight of their trip.

Tip
It is not at all unusual in England to be assigned a table by the waiter. Often the locals wait at the entrance until the waiter leads them to a free table. However, this rule is seen rather loosely in recent years. If you just sit down somewhere, you haven't made as big a mistake as you would in the U.S., for example. Rarely are there signs in England these days like in America with "Please wait to be seated" inscriptions.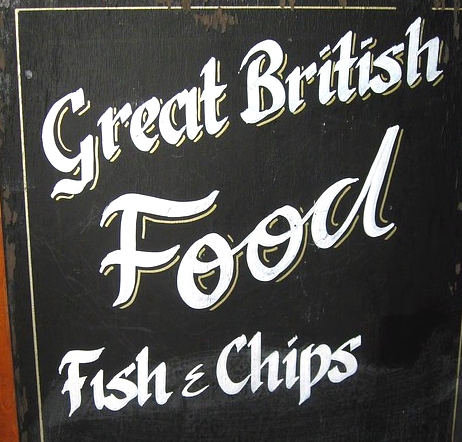 On the menu, which is often displayed on the street as in Germany, it is usually stated somewhere whether the service fee is already included in the price or not. If this is not the case, you have to expect a surcharge of 15%. Tipping in London and England is handled like in Germany: You round up – if the service was very good, you also give 10% or 15%. But you don't necessarily have to tip. However, the service charge mentioned above is obligatory and is automatically added to the bill.
The menus in London are almost always in English. German menus are available at most in the restaurants next to the top sights of London and even there only sporadically.
Tickets for the London Eye Ferris wheel can be found on this German-language website
Where can you go for a cheap meal?
Often cheaper than in restaurants in London is the food in the pub. There are often large portions. A main meal often costs less than 10 pounds. Very cheap is the food in the pub chain "Wetherspoons", which is widespread throughout England.
In London, the price level of restaurants depends very much on the area. The city center, especially the banking district City, is one of the most expensive areas. The cheapest places to dine are in the working class areas of east and south London. Many restaurants with affordable prices can be found in the inner city area e.g. around Kings Cross. Often restaurants in shopping centers or department stores are inexpensive. This is especially true in central London.

British Kitchen has been displaced
Restaurants serving local (British) food are now clearly in the minority. Even more than in Germany, restaurants are run by foreigners. Indian restaurants are in first place by far. The most popular Indian dishes are known to every child in England – similar to kebab, pizza or gyros here. Nowadays, almost every Briton is an expert on Indian food and can distinguish between North Indian and South Indian cuisine, for example. Chinese, Japanese, Turkish, Arabic, Greek, Italian, Thai and Mexican restaurants are also very common. American food is much more common in England than anywhere else in Europe. It is not uncommon to order a hamburger with fries even in a better restaurant in England.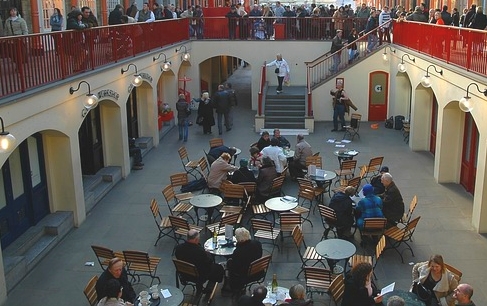 Vegetarian food in currently in London absolutely trendy. Practically all Indian restaurants offer several vegetarian dishes, quite a few Indian restaurants in London are even completely vegetarian. There has been a strong vegetarian movement in London for several decades. Fish is eaten more in London than in Germany.
Incidentally, the quality of English food has increased significantly in recent years, at least in London. This could be due to the strong competitive pressure from the many restaurant operators with immigrant backgrounds. The well-known English overcooked vegetables hardly exist anymore. Genuine traditional English cuisine is hardly to be found in London anyway. The most likely choices are the old meat-and-fries dishes like steak and kidney pie.
Inexpensive Lunch: Lunch specials and buffet restaurants.
Many restaurants have an inexpensive lunch menu on weekdays. Similar to Germany, these can be found mostly in office areas and near the center of town. An inexpensive lunch menu in London can cost as little as half of a comparable meal in the evening.
"All you can eat" is also becoming increasingly popular in England. There is a buffet in the restaurant from which you can take as much as you want. Drinks cost extra. At noon, there are significantly more "flat rate" restaurants in London than in the evening. Insider tip: In Drummond Street (near Euston station, just 2 km north of central London) there are some excellent Indian and vegetarian lunch buffets for 7 to 10 pounds (also on weekends, prices year 2017).
Learn more interesting things about the topic: All about fast food restaurants in London
London Luxury Restaurants Top 10
London is known for its vibrant and diverse food scene, with thousands of restaurants serving cuisines from around the world. From Michelin-starred gourmet restaurants to casual street food vendors, this vibrant city offers something for every taste and budget. In this article we look at 10 of the best restaurants in London, each with its own atmosphere and style.
The Ledbury
Located in the trendy Notting Hill district, The Ledbury is one of London's most celebrated gourmet restaurants. With two Michelin stars and a reputation for impeccable service, this restaurant is a must for foodies looking for an unforgettable culinary experience. The menu features modern European cuisine with an emphasis on seasonal and local ingredients, prepared with talent and artistic skill by Executive Chef Brett Graham.
Hakkasan
If you want to enjoy upscale Chinese cuisine, Hakkasan is the place for you. With locations in London, New York and other major cities around the world, the Michelin-starred restaurant is known for its elegant décor, imaginative cocktails and expertly prepared food. The menu offers a wide range of Cantonese dishes, from dim sum to Peking duck, served in a refined, stylish setting.
Dishoom
For a taste of Bombay in the heart of London, visit Dishoom, a popular restaurant chain with several locations in the city. Inspired by the Iranian cafés of 20th century Mumbai, Dishoom serves a variety of Indian dishes, including biryanis, curries and grilled meats, all prepared with fresh, high-quality ingredients. The colourful décor and subdued ambience create a lively and friendly atmosphere.
Gymkhana
Named after the Indian word for sports club, Gymkhana is a Michelin-starred restaurant in the heart of Mayfair. The menu offers traditional Indian dishes with a modern twist, including tandoori chicken, lamb chops and biryani, served in an elegant and sophisticated setting. The cocktail menu is also a highlight, offering a variety of creative drinks inspired by Indian flavours and spices.
The Clove Club
The Clove Club in Shoreditch is a Michelin-starred restaurant specialising in modern British cuisine with a touch of originality. The menu changes regularly with the seasons and the chef's creative impulses, but look forward to dishes like venison tartare, quail with wild garlic and rhubarb sorbet with blood orange. . The atmosphere is relaxed and unpretentious, with an open kitchen and a laid-back vibe.
Tickets for the London Eye Ferris wheel can be found on this German-language website
Ottolenghi
Ottolenghi is a popular restaurant chain with several locations in London specialising in Mediterranean-inspired cuisine. The menu offers a variety of vegetarian and vegan dishes, as well as fresh salads, pastries and sweets. The ambience is bright and colourful, with lots of natural light and a relaxed, welcoming atmosphere.
The River CafeL
ocated on the banks of the Thames in Hammersmith, The River Cafe is an iconic Italian restaurant that has been serving delicious food for over 30 years. The menu features classic dishes such as risotto, pasta and seafood, all expertly prepared using the freshest ingredients. The atmosphere is elegant and sophisticated, with a beautiful riverside setting and an extensive wine list.
Hawksmoor
For steak lovers, Hawksmoor is a must in all of London. The menu features the finest, carefully selected cuts of meat, sourced from the best producers in the UK and cooked to perfection. The cocktail menu is also a highlight, with a variety of creative and well thought out drinks that pair perfectly with the meat dishes. The atmosphere is elegant and sophisticated, with dark wooden furniture and subdued lighting.
St John
Situated in a former smokehouse in Clerkenwell, St John is a restaurant specialising in acclaimed nose-to-tail cuisine. The menu offers offal options as well as traditional British dishes such as roast beef and pie. Everything is prepared with expertise and care, with an emphasis on simple, earthy flavours and quality ingredients. The atmosphere is casual and relaxed with communal tables and an informal vibe.
Padella
For delicious handmade pasta, visit Padella, a popular Italian restaurant in Borough Market. The menu offers a variety of classic pasta dishes such as spaghetti carbonara and pici cacio e pepe, all made with fresh, homemade pasta and simple, tasty sauces. The restaurant is lively and vibrant, with an open kitchen and a relaxed, cosy atmosphere.
In short, London is home to a diverse and exciting dining scene with a wide range of restaurants serving delicious dishes from around the world. Whether you're looking for upscale cuisine, relaxed street food or something in between, there's something for every taste and budget in this vibrant city.
Tower of London:

It's better to buy tickets in advance on the internet.

I can't say this often enough: the waiting time at the ticket office in front of the entrance to the Tower of London is often hours long. On this website, you can buy tickets for the Tower of London. Cancellations up to one day before the visit are free of charge with this provider. If you book on the internet, the entrance is a few percent cheaper.——>>> Here you can get tickets for the Tower of London
Opening hours of some attractions:
Camden Market opening hours
Tate Modern opening hours
British Museum opening hours
Tower opening hours
Madame Tussauds opening hours
Opening hours Westminster Abbey
Opening hours London Zoo