There are several ways to get from Germany to London. Nowadays, the majority of travelers come by plane. However, quite a few tourists also come by train, bus or car.
Our tip:

London Pass
The best city ticket for tourists. It includes free entry to the Tower, London Zoo, Westminster Abbey, Windsor Castle and The Shard skyscraper. Plus a city tour by bus and a great boat trip on the Thames. A total of about 85 attractions included! The London Pass is available for 1 day or several days (up to 10 days). Pays off for almost every tourist who wants to visit the sights and the city of London. Our recommendation for a city trip to London!
Getting to London by plane
Flights to England are often cheaper than elsewhere. This is due to the low-cost airlines that are very popular in England and the high competition between airlines on routes between Germany and London. It is not uncommon to find a return ticket on the Internet for under 100 euros.
It makes a big difference on which airport you arrive in London. There are a total of five major commercial airports, which are more or less far away from the center of London.
---
Our excursion tip
Harry Potter tour from London to the film studios outside the city. It is currently the most popular day trip from London  >>> Book the tour
---
London Heathrow Airport: This is the largest airport in Europe. You can get from Heathrow Airport to the city center (Piccadilly Line) in about 50 minutes by the normal subway for about 6 pounds. If you are in a hurry and have enough money, you can take the Heathrow Express (new high-speed train). This takes just over 15 minutes to get into the city, but costs up to 25 pounds one way. More precisely, the ticket costs 25 pounds Monday through Friday from 7 a.m. to 10 a.m. and from 4 p.m. to 7 p.m. At other times, the one-way fare from Heathrow Airport is 3 pounds cheaper (22 pounds one-way). If you buy the ticket only in the Heathrow Express you pay a surcharge of 5 euros. It is much better to buy a ticket for the Heathrow Express on the Internet before you travel to London. (Status he info at the beginning of 2021)
At these prices with the fast train, a private transfer (similar to cab) from the airport to the city is an interesting alternative for many tourists, especially if you are not traveling alone. You are picked up with a name tag and driven to the city. A good idea, for example, for vacationers who do not want stress on arrival. From 2 people, such a service is not much more expensive than the fare of the Heathrow Express. Moreover, you will be taken directly to your hotel and not to any train station. Here you can find a provider: Private transfer from Heathrow Airport to London
London Stansted: Here, too, there is a modern and super fast express train to London. This costs 16.60 pounds in 2nd class (as of early 2018, about 55 km). Alternatively, there are cheaper buses from London Stansted Airport to Victoria Station in central London.
Gatwick Airport: This is the second busiest airport in London and the UK. There are also modern trains to the city from Gatwick Airport, located about 40 km south of London (Gatwick Express, fares about 18 pounds in 2018). Normal long-distance trains also stop at this airport, for example, on the route from London to Brighton.
London City Airport: This airport is located in the center of London. The Dockland Light Railway (DLR) stops here and connects the airport with the Underground system. However, tourists rarely arrive at this airport.
London Luton Airport: This airport is about 50 km away from London. You can either take a bus directly into the city or take a bus to the nearest train station. Both is quite unproblematic.
One of the popular excursions in London is to the film studios, where the Harry Potter films were shot. The location of the studios is about 30 kilometres north of London near the town of Watford. The tour includes a bus transfer from London and has very good reviews. A "must" for every Harry Potter fan on holiday in London. The trip by bus and the visit to the film studios takes around 7 hours. You should book early, the popular Harry Potter excursion from London is often sold out. The alternative journey by public transport is not so easy. The excursion to the Warner Brothers Studios is for many London holidaymakers the highlight of their trip.

By train to London from Europe (Eurostar)
An excellent alternative to flying is to travel to London by train. There are several fast daily connections from Cologne or Frankfurt via Brussels to London. The travel time from Cologne to London is only about 5 hours, from Frankfurt it is about 6 hours. The fare is very different. If you book long enough in advance, you can get real bargains. I just paid 69 euros from Stuttgart to London in 2016. I left Stuttgart at about 11:30 in the morning and was already in London at 7 pm. However, you don't always get that lucky, usually even the advance booked saver fares are higher.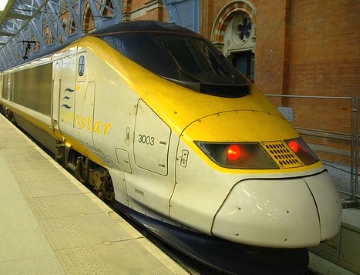 The tickets are also available as an online ticket for self-printing. One should keep in mind that in Brussels or Paris it is essential to check into the Eurostar 1 hour before departure (about the same as on an airplane). In London, the trains all arrive at the central St Pancras station. Around the station there are many relatively cheap hotels and hostels. From 2013, Deutsche Bahn wanted to go directly to London with the ICE. Then the travel time should be further reduced, since the change in Brussels Midi is omitted. However, nothing came of it for the time being. Currently (January 2019), the plans to offer direct ICE trains from Germany to London have been put on hold for the time being. The uncertainties due to the planned exit of Great Britain from the EU (Brexit) are now added.
By bus to London 2023
The company Eurolines or its German subsidiary Touring offers daily scheduled services with modern buses to London. Departure is from many German cities. Eurolines is quite cheap. Almost all buses arrive in London at the bus station behind Victoria Station (good tube connections, quite central).
Onward travel in Great Britain and to Ireland
Travel by train is often cheap in the UK if you book ahead. If you simply want to buy a ticket just before departure, it often costs many times as much, about the same as in Germany without a Bahncard. Trains in England are quite fast, in about 3 hours you are in the north of England or even already in Scotland.More info, booking options and prices at: http://www.nationalrail.co.uk
Also to Ireland you can travel from London relatively fast and cheap by train and ferry. Again, it is only cheap if you book well in advance. If you want to go to Dublin, take a train to Holyhead in Wales and then the ferry directly to Dublin. From the south of England there is another ferry connection to the south of Ireland (if you want to go to Cork or Killarney for example). This ferry connects Fishguard in England with Wexford in Ireland. I paid only about 35 pounds for a one-way trip in August 2013 (high season!) from London to Ireland (Dublin) by train and ferry (booked three weeks in advance on the Internet).
National Express offers a very large and inexpensive long-distance bus system in the UK. The buses go from Victoria Station to almost every major city in GB, some routes are even served hourly. The buses are usually cheaper, but usually slower, than the trains.