Overview good bus tours from London to Stonehende
The ancient stone circles of Stonehenge are a very popular destination for a day trip. Most holidaymakers in London do not have a car. Therefore, many tourists take a day trip by bus to Stonehenge. The single journey time is about 2,5 hours. Due to the big distance, there are many tours that also go to a second destination on the way. The visit of Stonehenge takes about 2 hours.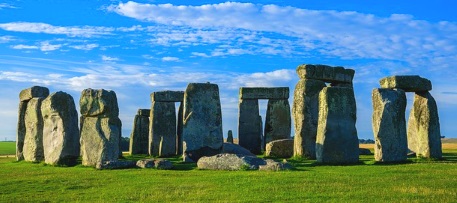 In the following, some good offers for bus tours from London to Stonehenge without overnight stays, thus day trips. All tours shown have good reviews on the internet by former participants. We have only selected day trips that start and end in the centre of London near a underground station.
---
Suggestion 1: Only ticket for Stonehenge (own approach)
Due to the extreme number of visitors, it is often only possible to enter Stonehenge once you have booked in advance. So also tourists who come to Stonehendge themselves should buy the ticket for Stonehenge in advance on the internet. The entrance fee is about 24 Euro per person:
—>>>>> More information and booking on this link
---
Suggestion 2: Bus tour from London to Stonehenge
You go by bus 2.5 hours there and 2.5 hours back. In between you are 2-3 hours in Stonehenge. You can have a look at the stone circles and the exhibition in the visitor centre. You will be informed with an audio device (available in many languages including of course English). The journey takes about 7 hours, departure is at 2 pm in summer and earlier in winter.
––>>>>> More information and booking on this link
---
Suggestion 3: Bus tour from London: Stonehenge and Bath
Besides Stonehenge you also visit the city of Bath. The town is known as a seaside resort, especially from the Roman period. It is the only known place in England with hot springs.
—>>>>> More information and booking on this link
---
Suggestion 4: Bus tour from London: Stonehenge, Bath and Windsor Castle
This tour also goes to Windsor Castle. Total duration about 12 hours. We recommend this trip because all 3 destinations are worthwhile.
—>>>>> More information and booking on this link
---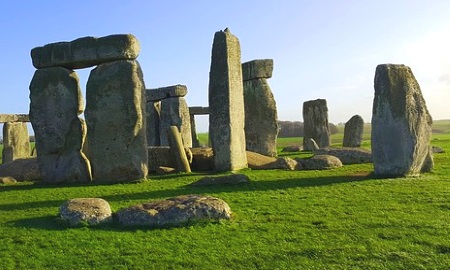 Procedure for visiting Stonehenge
All visitors to Stonehenge enter the site via the new and modern Visitor Centre. There you will find the ticket control, a small exhibition (museum) and a café. In the cafe you can also buy small meals (rather expensive). Only here at the visitor centre of Stonehenge there are toilets. The large parking lot of Stonehenge is right next to the Visitor Centre.
You can get an audio guide at the Visitor Centre. It is available in 10 languages, including English. In the Visitor Centre there is free WIFI.
The visitor centre is 2 km from the stone circle. There are shuttle buses, but many visitors also go on foot. Almost everyone goes back by bus.
You can walk around Stonehenge on a long footpath and see the stone circle from all sides. You cannot walk between the stones.
Then you take the bus back to the visitor centre of Stonehenge. Almost everyone goes also to the small museum.
Opening hours Stonehenge 2022 / 2023
In summer the opening hours are usually daily from 9:30 to 19 o'clock.
In winter, the opening hours are often much shorter, probably because of the early darkness 9:30 to 17 o'clock (about mid-October to mid-March).
You must enter at least 2 hours before the closing time.
There is no rest day or anything like that. Closed days are rare, so far we know only at Christmas (24.12 and 25.12.)
Neolithic Houses
Some houses from the Neolithic period were reconstructed at the visitor centre. These can be visited. There are also some demonstrations like making fires with flint stones, grinding grain or making ropes in the Neolithic.
Exhibition / Museum Stonehenge
There is also a small museum. Several hundred objects found in Stonehende are on display. There are things like jewellery, tools and vessels. Also the head of a man from the stone age was reconstructed in the Stonehenge museum. There is also an exhibition on nutrition in the Neolithic. But many things from Stonehenge have been brought to other museums, for example to the Salisbury Museum about 10 km away from Stonehenge.
Café in the Visitor Centre
During Stonehenge's opening hours you can also eat and drink in a restaurant in the Visitors Centre. The prices are rather high, there are snacks and drinks.
Shop from Stonehenge
Of course, there is also a souvenir shop in Stonehenge, as in all the big sights of the world.
Our other excursion tip: Harry Potter tour from London to the film studios outside the city. It is currently the most popular day trip from London  >>> More information
Most data on this page are from summer 2018 and 2022