London is the capital of fast food in Europe. No other city has so many fast food outlets. A large part are chain stores of large chains, but there are also many small family businesses.
Tower of London:

It's better to buy tickets in advance on the internet.

I can't say this often enough: the waiting time at the ticket office in front of the entrance to the Tower of London is often hours. On this website you can buy tickets for Tower London online. Cancellations up to one day before the visit are free of charge with this provider.  Tickets for the Tower of London are available here  » » »
The number of fast food stores in London exceeds the number of restaurants many times over. The transition is fluid. Especially the many Indian and Chinese so-called "take-aways" are something between fast food stores and restaurants. Take-away is an extremely popular term in London. It means something like "hot food to go". These are usually complete meals with side dishes. In many stores, take-aways can also be eaten on the spot. Sometimes, but not always, this costs a bit more. Unlike restaurants, with fast food and take-aways, the posted price is always the final price. All taxes and service charges are already included. In fast food outlets in London, drinks are usually cheaper than in Germany. Overall, the price level in London for fast food is not too high. My feeling is that fast food in London is more expensive than in Berlin, but cheaper than in Munich.
London Eye Wheel:

Buy your ticket beforehand
The average number of passengers in the London Eye is about 10,000 per day, in high season and at weekends it is much higher. Thus, there is often a big crowd. The queues at the cash desks of the London Eyes are often long. Hours of waiting time are frequent. Therefore, it makes sense to buy the ticket in advance on the internet.
Hamburgers and the like
Mc Donalds, Burger King, Kentucky Fried Chicken and others have a huge branch network in London. The high competition leads to rather low prices. For example, I paid only £3.99 for a medium Big Mac menu in the middle of London in late 2010. The menus are much cheaper than individual products. Those who want or need to save: Definitely watch out for deals. These are often much cheaper than the regular price.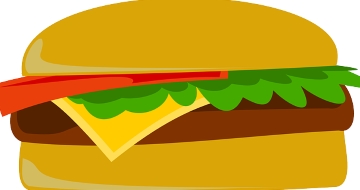 In addition to the chains, there are also many individual companies in London that fry hamburgers. These are not expensive either. The burgers are mostly large, tasty and with a lot of meat. As side dishes, fries are popular, just like here.
Tickets für das Riesenrad London Eye finden Sie auf dieser deutschsprachigen Website
One of the popular excursions in London is to the film studios, where the Harry Potter films were shot. The location of the studios is about 30 kilometres north of London near the town of Watford. The tour includes a bus transfer from London and has very good reviews. A "must" for every Harry Potter fan on holiday in London. The trip by bus and the visit to the film studios takes around 7 hours. You should book early, the popular Harry Potter excursion from London is often sold out. The alternative journey by public transport is not so easy. The excursion to the Warner Brothers Studios is for many London holidaymakers the highlight of their trip.

Must try: Fish and chips, pies and traditional English fast food.
Fish and chips, the good old English fast food, is also available on every corner. Fish and chips is a larger piece of fried fish with French fries. It tastes good. The fish is almost always cod (in German also cod, English cod). Fish and chips is not too expensive. A filling portion usually costs between 4 and 5 pounds.
Another, typically English, fast food are pies. These are, usually round, puff pastry pockets with a meat filling. The most popular is the "Steak and Kidney Pie". In the poor working-class neighborhoods in the south and east of England, "Pie and Mash" (a pie with mashed potatoes and a parsley sauce, see picture), was the most popular lunch until a few decades ago. There are still many stores in the poor areas of London that serve nothing but pie and mash and jellied eels.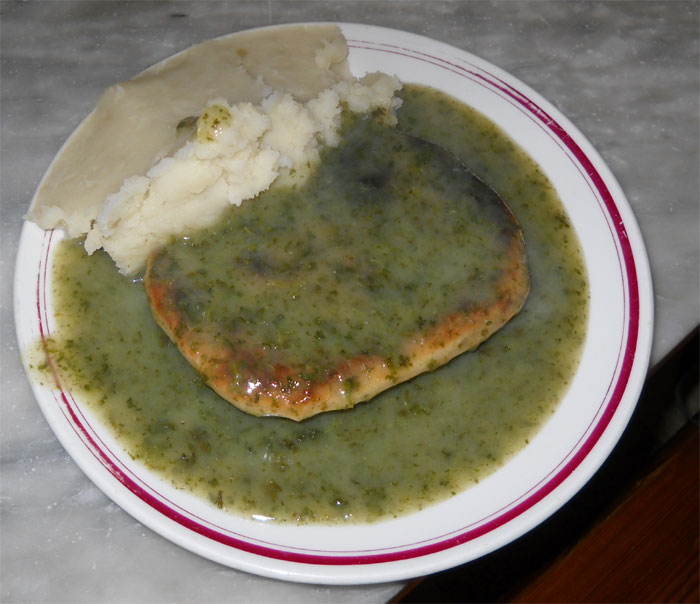 Good and cheap: Indian takeaways in London
Hundreds of thousands of Indians live in London. They have revolutionized English cuisine. Every Londoner knows the different Indian dishes like the German kebab, gyros or pizza. The Indian names of the dishes are usually written on the menus without explanation. That is why ordering is not easy for tourists who are not so familiar with Indian cuisine. However, the owners and employees of the Indian snack bars are happy to advise tourists. Many Indian dishes are vegetarian. There are also many Indian restaurants that offer a buffet. In these all-you-can-eat offers you can try everything. Typically, such a buffet costs between 7 and 10 pounds – sometimes there are also lunch prices for 5-6 pounds.
Chinese and Japanese fast food in London
Chinese restaurants and snack bars in London are similar to those in Germany. Often the Chinese in England's capital are even more Europeanized than on the continent. For example, ordering fries instead of rice is not uncommon in London.
Japanese is currently trendy in London, as it is in Germany. Sushi is everywhere in London and has also made it to the refrigerated shelves of almost all supermarkets. My absolute favorite chain is "wasabi". There you can find not only sushi but also many delicious soups and main dishes with rice. Wasabi is currently one of the fastest growing fast food chains in London.
Kebab (Turkish and Arabic food)
As in Germany, there are many Turkish people in London. Thus, there is a kebab store on almost every corner in the British capital. Kebab in London is also always made of chicken.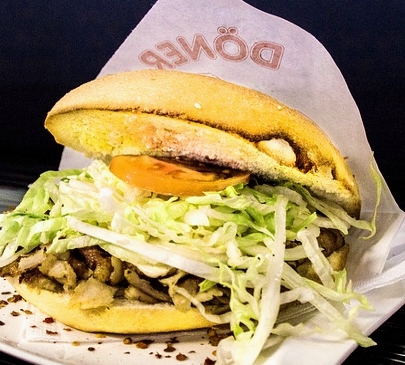 Unlike in Germany, kebab stores in London often sell hamburgers and pizzas as well. Kebab as a portion on a plate and other Turkish or Arabic dishes can often be ordered, as in Germany.
James Distillery Dublin: All info and tickets
Pizza and Sandwiches
Of course, there are also Italians in London and a lot of pizza. You can get pizzas at the many branches of Pizza Hut, of course, but they are real restaurants in London. A good deal for the very hungry at lunchtime on weekdays is Pizza Hut's all-you-can-eat buffet with pasta dishes, a variety of pizzas and lots of salads (about £6.50 plus service and drinks, late 2010).
There are also sandwich stores all over the city. The current trend is the "eat." chain, which offers sandwiches as well as other cold dishes.
German Fast Food (Bratwurst & Co)
By the way, German fast food is also very trendy in London! Especially the "Bratwurst" is getting more and more famous and popular. Many German owners of mobile sausage stalls have recognized the fashion wave and have moved to England.
Information about fast food in Venice can be found here.
BERLIN: